Dear Readers, Dear Friends of Human Plus,
Human Plus continues to support Greece during the COVID-19 pandemic by offering 2.5 million protective face masks.
Everyone's life has changed due to the pandemic that affects everything and everyone.
Educational institutions are closed, workplaces have been lost or continue to function under unparalleled and difficult processes and conditions; concerts are cancelled, theatrical performances and football matches called off, or may only take place without audiences or fans. Social life within the community is severely restricted. At the same time, charitable and social institutions and structures, medical personnel as well as all systemically important institutions maintaining the chain of supply provide critical services in the whole of Greece — far above and beyond their personal and financial possibilities.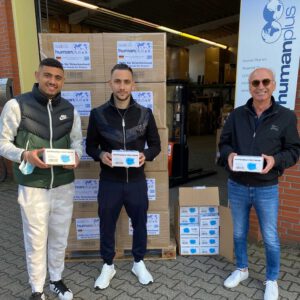 On Friday, 7 May, two Greek football players from our national team, Giorgos Giakoumakis and Anastasios Donis, visited the premises of Human Plus in Nettetal/Germany. Anestis Ioannidis, chairman and founder of the organisation, provided them with detailed information about the humanitarian work as well as the last delivery of a huge aid shipment to Greece 15 days ago by. Among other things, the shipment contained 2.5 million medical face masks to protect from the virus. The football players wanted to learn more about the work of Human Plus. They also wanted to participate in supporting Greece, same as their colleague, football player Panagiotis Retsos, who started supporting Human Plus during the COVID-19 pandemic.
Those 2.5 million masks were provided and will be distributed to hospitals, health care centres, social institutions, security personnel, people in need, and generally speaking to all those who fight on the front lines throughout Greece — from Orestiada to Crete, and on all the islands.
Our players were very enthusiastic about Human Plus's work, particularly in Greece. In their statements, they said:
"As professional football players, we are in the lucky position that we live in a better protected environment where we probably benefit from privileges that our fellow humans do not have.
Therefore, we feel that it is necessary for us to assume responsibility in these difficult times. Mutual support and aid at the present time are the high moment of our day. Every one of us can contribute to curbing the spread of the virus causing this pandemic to the best of their ability. Together, we can play our role in a swift recovery of Greek society and a return to normality.
Together with the Human Plus initiative "HELLAS CORONAERANOS" we want to help those people who help others, and who, by their contribution, attempt to guarantee that our society will emerge from the crisis different but also stronger, as it was before." Human Plus has been supporting social institutions, people in need, and many structures in the health sector in Greece for more than 20 years.
Since the beginning of the pandemic crisis, the Human Plus initiative "HELLAS CORONAERANOS" has increasingly supported hospitals, clinics, health care centres, and people in need by providing medical devices, protective equipment, food, and hygiene articles.
Our national team players added: "We are fully convinced that if a larger number of people support Greece, our society will rise even stronger from this health crisis. We are grateful to those who support us financially so that we may aid our fellow country people".
Mr Ioannidis added for Human Plus:
"Since the beginning of the COVID-19 pandemic, the number of people in need in Greece as well as the requirements of clinics and health care centres have increased on a daily basis.
With your help and the support of many other well-known persons from Greece who provide global support, we can now offer, in addition to food and clothes, protective clothing for hospitals and health care centres, adequate medical equipment for hospitals, and anything else required to improve the services offered to the citizens of our country as best we can."
Mr Konstantinos Papazisis and the team of Athinaiki AG played a decisive role in implementing the initiative by again handling the transport of the products throughout Greece!
Anestis Ioannidis