Tunisia Aid
In Pieces after the arab spring
Since the outbreak of the Arab Spring, sun-worshipping tourists have been giving the former holiday paradise of North Africa a wide berth.
Hit by the consequences of the violent unrest, the Tunisians have been really feeling the slump in tourism. Around one million people live below the poverty line – at a time when thousands of refugees from neighbouring Libya are seeking asylum in their country.
In February 2012, the Tunisian consulate in Munich contacted Human Plus requesting aid for his country.
Just one month later, the first 50 tonnes of Human Plus aid supplies landed in the Tunisian capital on-board a Tunis Air flight, carrying medicine, bandages, food and baby food, sanitary items, shoes and clothing for social institutions in Tunis and the hospitals in remote regions. Human Plus was able to arrange Tunis Air to transport the supplies free of charge.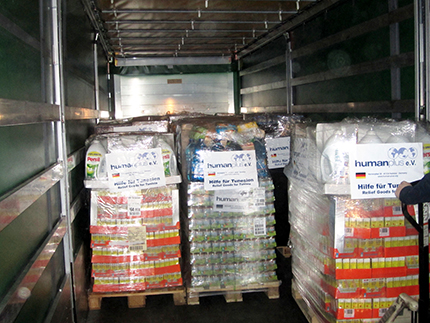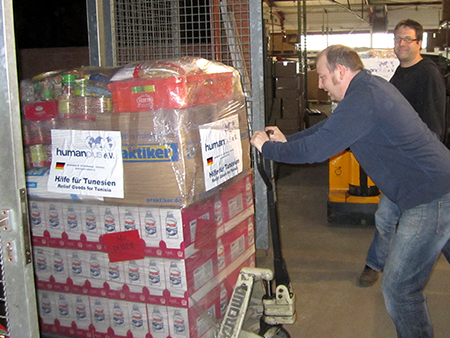 What do the people need the most, and how can they be efficiently helped? Anestis Ioannidis, president of Human Plus, flew to Tunisia himself to find out.
He wanted to personally accompany the aid convoy as it distributed and handed over the aid supplies. Our partner in Tunisia is the government-affiliated aid organisation, U.T.S.S. (Union Tunisienne de Solidarité Sociale).
"The sanitary and medical standards at the rural hospitals and nursing homes are shocking for us Europeans. They have nothing," said Ioannidis.
The people on the streets of Tunis are optimistic that the economy will recover once the police state ends. The new government is endeavouring to harmonise the newly acquired freedom with the internal safety and care required for its population.
Without external assistance, this would be impossible. The apparent peace in the country may soon be put to the test.