Turkey Aid

The earthquake in Van Province
We receive numerous calls from Turkish families and friends urgently asking for our help. On 23 October 2011, a 7.2-magnitude earthquake caused 2,300 houses in Turkey's eastern Van Province to collapse.
570 people lost their lives, and many more were left with nothing.
Human Plus immediately initiated a call for donations. Soon after, some 70 tonnes of urgently required aid supplies reached the people in need in Van: mattresses, blankets, clothing, detergents and, most importantly, food.
The Turkish consul general in Cologne secured UPS as an efficient, non-bureaucratic transport service provider.
RED CRESCENT, Turkey's largest aid organisation, took charge of distributing the aid supplies on site.
But it failed to keep its promise of advising Human Plus the time of distribution. Human Plus wanted to assist with and document the distribution process. We investigated, and eventually contacted Turkish President Erdogan.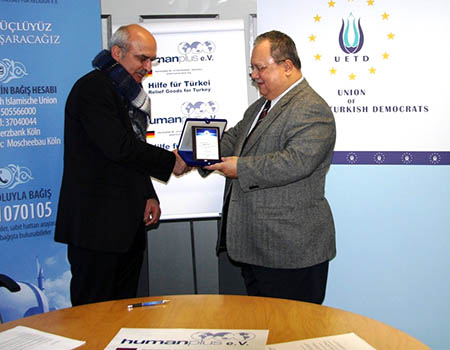 Anestis Ioannidis (left), President of Human Plus, with Consul General Mustafa Kema (right)