Somalia Aid

Aid at the  Horn of Africa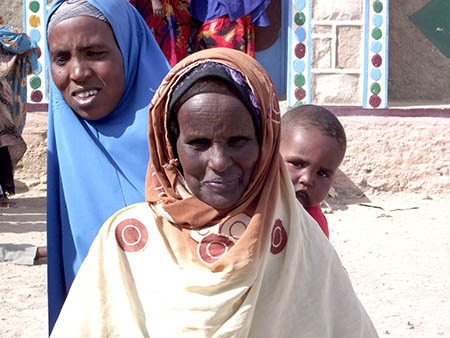 A non-existent rainy season in two consecutive years triggered a dramatic hunger crisis in the Horn of Africa in 2011.
It is the lowest amount of rainfall to be recorded in 60 years. Crop failure began as early as December 2010, and cattle conditions worsened.
Human Plus reacted promptly, initially sending 25 tonnes of food, water and medicine as relief for people in need in Somalia.
The hunger crisis threatens around 11.5 million people. Over two million children in the region are undernourished, with 500,000 of them fighting for their lives.
The people of Somalia are rocked by Islamist fighting in the country. Thousands of mothers are fleeing with their children.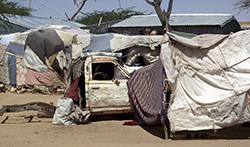 Most refugees escape from the fierce fighting in the capital, Mogadishu, and hope to find a better life in the neighbouring republic of Somaliland and northern Kenya.
The UN has joined forces with other aid organisations to operate three refugee camps in the township of Dadaab in north-eastern Kenya, around 100 km from the Somali border.
Following the outbreak of the Somali civil war in late 2011, almost 500,000 refugees were staying in the Dadaab camp alone.
In view of the supply shortages and the lack of sanitary and medical care, the high population density has led to a cholera epidemic.
The safety situation at the camps is frightening. The number of sexual assaults has doubled in a short space of time.
Human Plus has managed to secure Ein Herz für Kinder and Air Berlin as co-operation partners. With their assistance, Anestis Ioannidis, president of Human Plus, is paving the way for 100 tonnes of food to be delivered.
These aid supplies are to be sent to the people in the Dobley camp via Nairobi.
The Dobley camp is located 20 kilometres beyond "Hell's Gate", the border crossing between Kenya and Somalia. 40,000 people are directly affected by famine here. Women and children in particular die from malnourishment and disease every day.
Ioannidis has commented on the situation at the Dobley camp: "Our staff report of indescribable suffering. Many children are dying because the donated food and water do not reach them in time.
This is a shameful image for us, the Western world. Organisational deficiencies, conflicts of interest and complications in on-site distribution continue to cost many human lives."
Human Plus has been able to supply people in the Horn of Africa with a total of 140 tonnes of food and medicine.